The last time I did a clearout of my wardrobe was in January. I ended up with a big garbage bag and never donated it out of laziness. Today, I sucked it up and sorted through everything. EVERYTHING: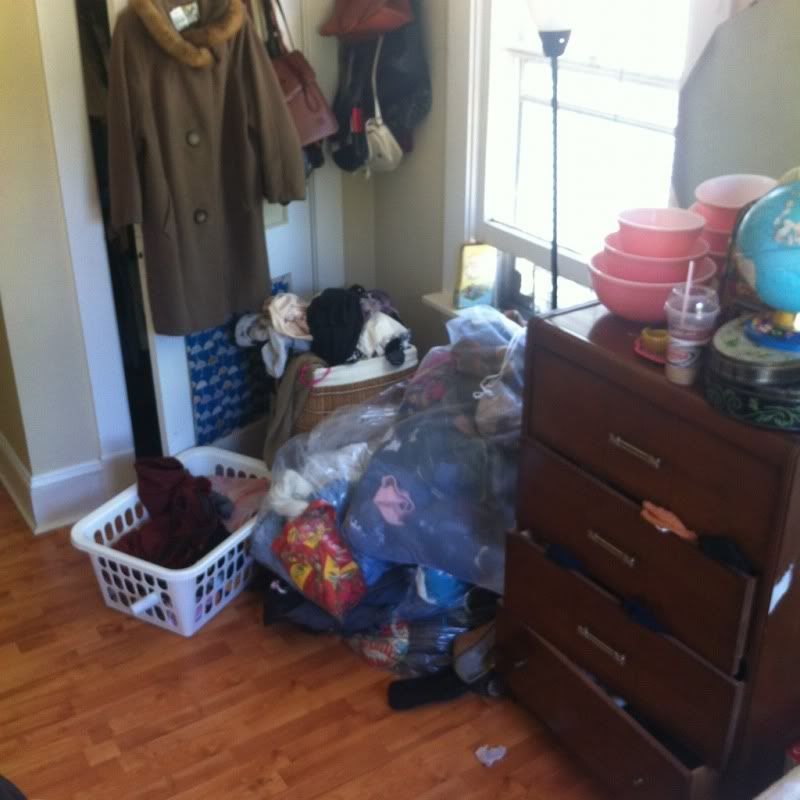 in this photo is every piece of clothing I own. Well, except for what I was wearing at the time and a small pile of stragglers left at my boyfriend's house. The closet and dresser were packed pretty full, the plastic bag contains all that stuff I said I was gonna donate in January, and the rest is pure dirty laundry. Oh and the white thing hanging out of the laundry basket is the handle to my Dust Buster, I thought that was a good place for it for some reason???
So fueled by my Ice Capp (also pictured above) I went through everything, starting with the dresser. I sorted things with these criteria in mind:
Things I wear often, that I like, that fit me: Keep pile
Things that are unique, things I loved that don't fit me anymore: Sell pile
Things I just wanted out of my house as soon as possible: Donate pile
Things missing buttons or shoes that need resoling: Mend pile
Things full of stains and holes beyond repair: Straight to the waste bin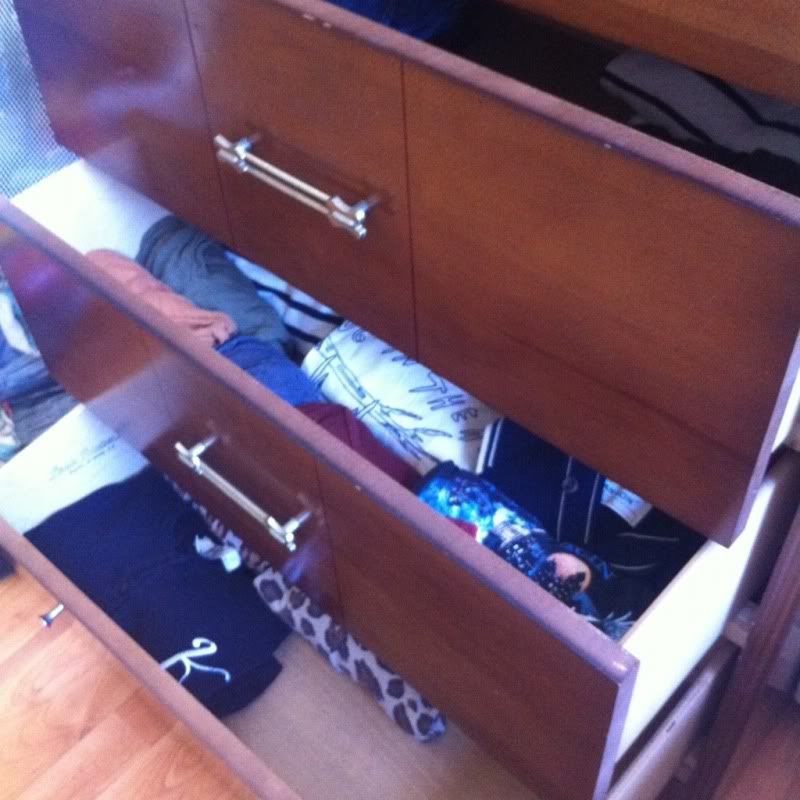 So this is my dresser after sorting through everything, drawer by drawer. I also organized it slightly: Top drawer is for underwear and such, second is for pants and shorts (and some t-shirts), third is t-shirts, fourth is sweaters.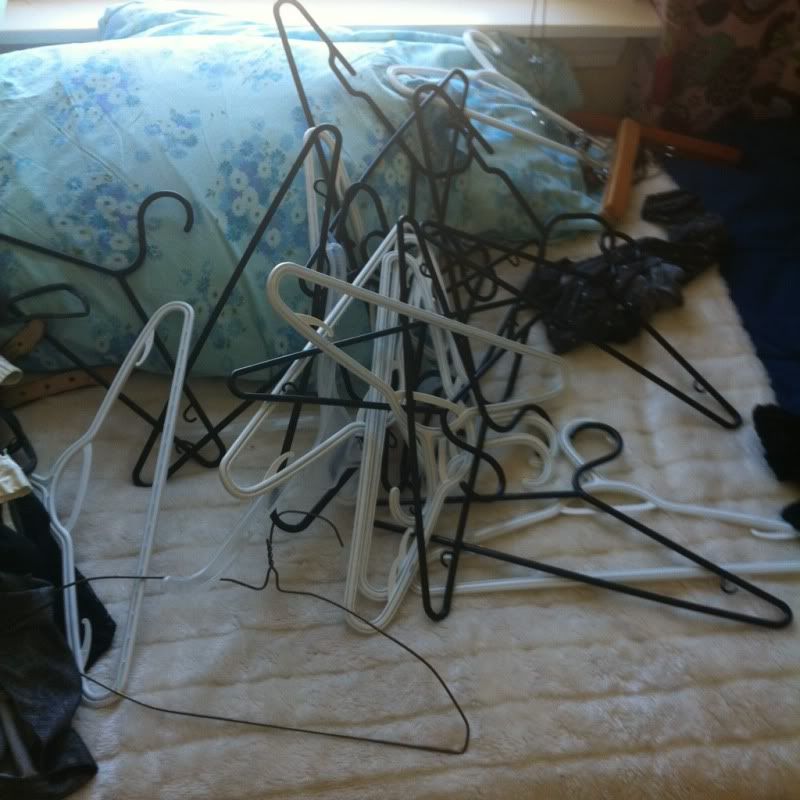 Lately when I do laundry I've found myself running out of hangers to put things on. When I went through everything in my closet, I was left with ALL OF THESE!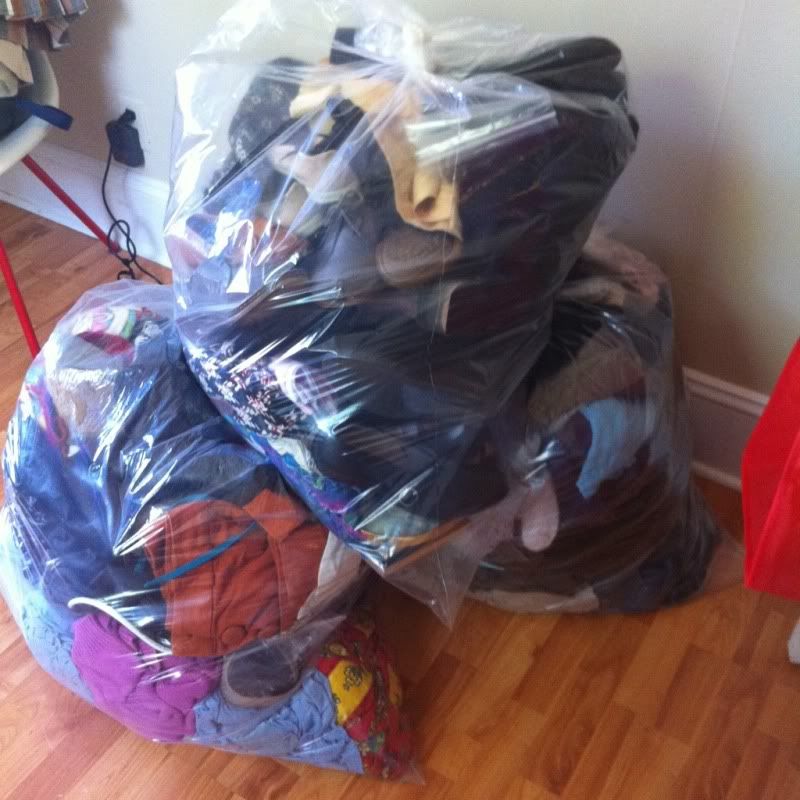 This is three huge garbage bags filled with clothes and shoes to donate. Instead of letting them sit around my room until I could con someone with a car into driving me to Value Village, I sucked it up and called a cab. These bags are gone now. Gone! seeya later, nice knowing ya.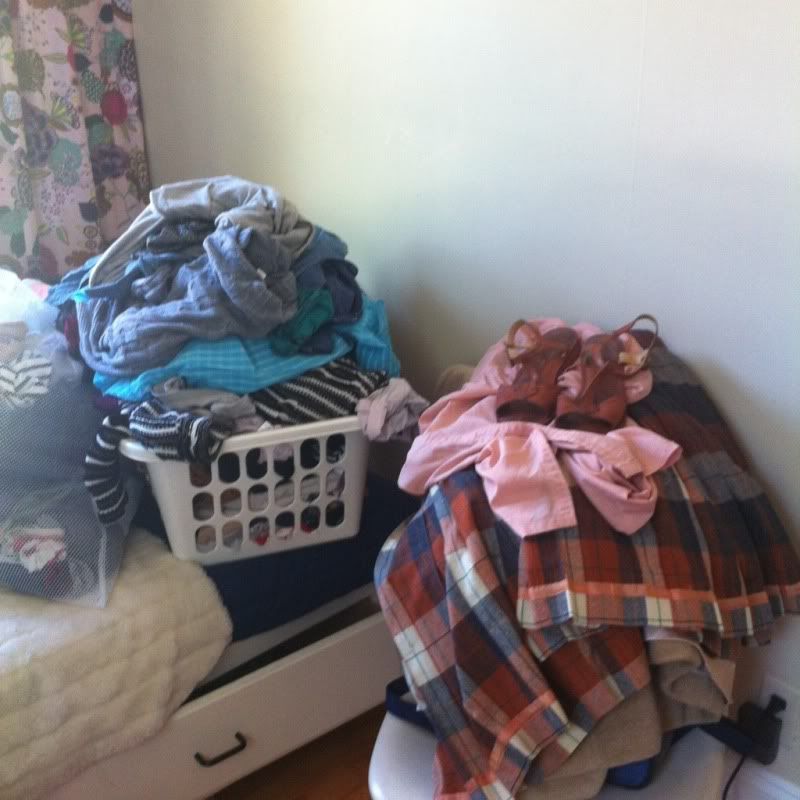 My mending pile is on the chair, and the stuff on the bed is laundry I need to do. SO MUCH LAUNDRY.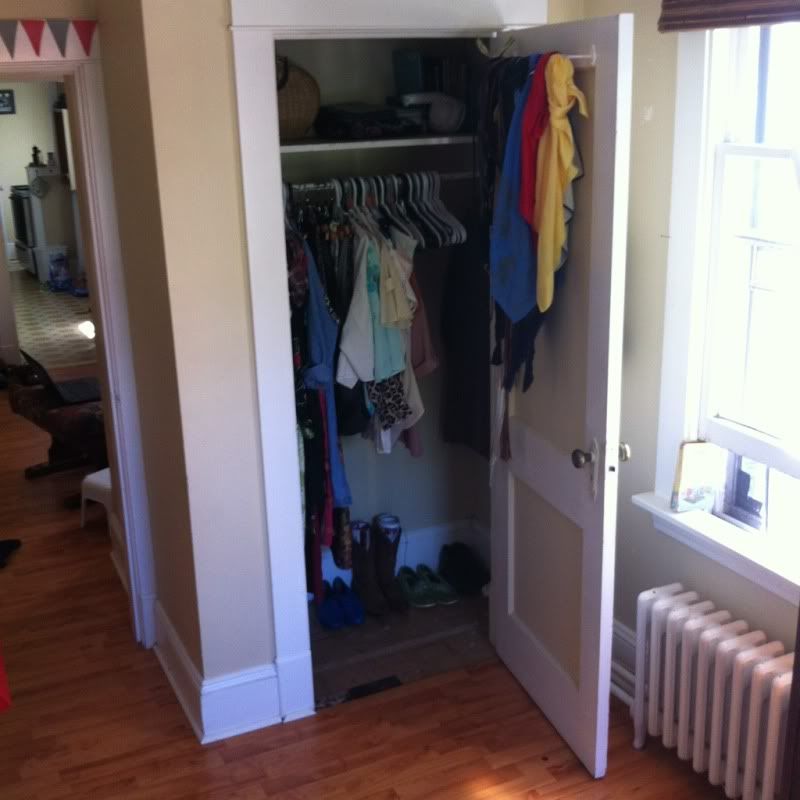 My closet now. I also sorted through a huge basket of scarves I had on the shelf in here. I never wore ANY of them because they were up there out of sight. Now I have the ones I like tied on that bar where I can easily see them. I keep my belts on that bar as well. Note that I've also found a better home for my Dust Buster, HA.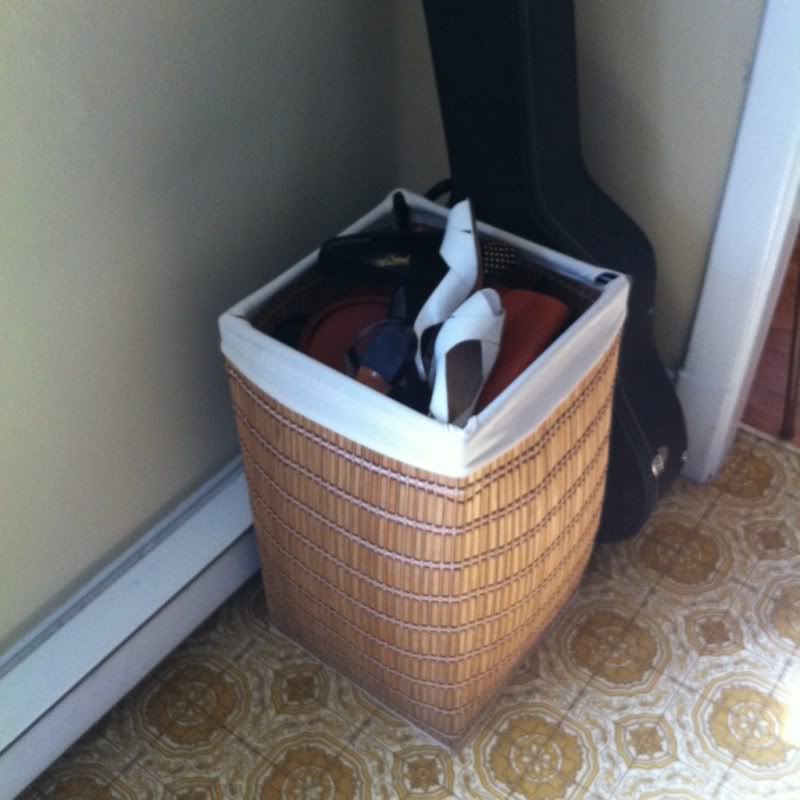 And now I'm left with this: My sell pile. Local swap groups are full of flaky people and Canada Post is so overpriced that I don't know if selling online will be viable. Since the weather is so nice, I'm thinking a yard sale would be a good idea. Any Charlottetown ladies want to have one?
This whole process didn't take as long as I thought it would: about 2.5 hours, snack breaks included. Maybe it's because most of my clothes are from thrift stores (cheap), but I didn't find it hard to get rid of anything either. I also rediscovered lots of things I'd forgotten I owned, and I found my headphones which have been missing for MONTHS.
If you've been thinking of doing some closet-related spring cleaning, DO IT. It's easy! It doesn't take very long! It makes you feel real good afterwards!